News
Match Report:
Thornton Roofing O'Cahan Cup Semi Final
Sunday, April 29, 2012
Casements Portglenone 0-9
Kickhams Creggan book their place in decider
Friday 20th April
...
more
Congratulations:
The Thomas McCann Plasterers, South West Feile na nGael Skills final
Tuesday, April 24, 2012
Players who braved the elements to participate in the SW final of the Feile na nGael hurling skills, held at Ahoghill on Saturday.
Stephen Carey (Tir na nOg, Randalstown), Dermot Carey (Kickham
...
more
Match Report:
The Thomas McCann Plasterers, South West Feile na nGael final
Tuesday, April 24, 2012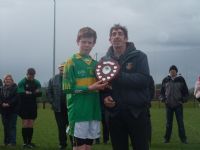 Kickham's 7-08 v 0-02 Tir na nOg
On Saturday at a wet and miserable Ahoghill, the U14 hurlers of Kickhams and Tir na nOg played out a very entertaining South West Feile na
...
more
Match Report:
SW U14 Hurling Feile na nGael semi-final
Monday, April 16, 2012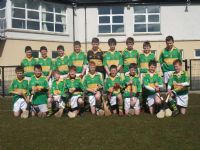 Kickhams, Creggan 2-08 v 1-02 All Saints, Ballymena
The U14 hurlers of Kickhams and All Saints served up a fantastic display of Feile na nGael hurling at a sun drenched Creggan on
...
more
Event:
St Benedict's Table Quiz
Thursday, April 12, 2012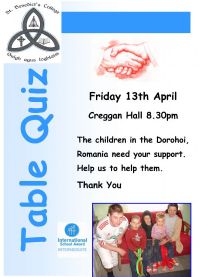 St Benedict's will be having a table quiz in aid of poor Romanian families in Dorohoi
On
Friday the 13th of April at Creggan Hall
starting at
8:30pm
...
more
News Item:
Eugene McAlynn 5K Fun Run
Tuesday, April 10, 2012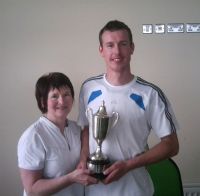 Eugene was always associated and a member of Kickhams GAC not known for any football or hurling skills but always as a great runner. Anyone driving to Antrim or coming from it would have seen Eu
...
more
Match Report:
U14 SW Feile Shield Final
Friday, April 6, 2012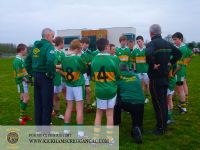 Congratulations
to the
U14 Feile Footballers
that won the Shield
final played last Sunday at Tir na Nog.
Thanks to Dermot Carey for the photos!
...
more
Event:
Ladies Foundation Coaching Course
Wednesday, March 28, 2012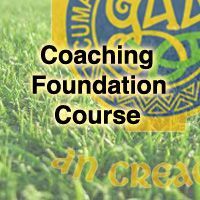 Foundation Course at the club on
Saturday 31st from 9:30 to 2:30/3pm.
If you are interested in doing the course, contact Roisin Keenan at:
roisin.keenan.ulster@gaa.ie
077
...
more
Reminder:
Registration Evening
Tuesday, March 20, 2012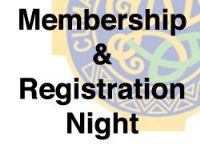 Registration evening on Thursday 22nd March at 7.30pm

- All members

must

be paid up by this date or they will not be allowed to train or play in 2012
...
more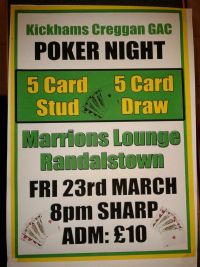 Kickhams Creggan GAC
Poker Night
is being held on
Friday 23rd March @ 8pm SHARP
. It will take place in Marrions Lounge Randalstown.
Everyone is welcome to join in this
...
more