News
News Item:
Order your Club Gear for Christmas
Tuesday, September 19, 2017
If you are looking to order any of the new Club gear for Christmas, ALL ORDERS must be made on Wednesday 7:30pm-8:30pm at the Club.
Dont miss out on ordering!

...
more
Pedal the Pond Cycle 2017:
Primary & Post Primary Cycle Information
Tuesday, July 25, 2017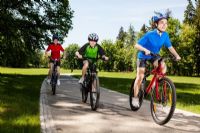 IMPORTANT INFORMATION FOR Saturday 5th August
KIDS CYCLING EVENT 1:00pm @ Club
* Prmary School kids will be escorted on a cycle around the Clubs grounds and the Playing Pitch.

...
more
Request:
Pedal the Pond JustGiving Page
Friday, July 7, 2017
The committee of Kickhams GAC Creggan are organising one major fundraiser in 2017 – a cycling event called 'Pedal the Pond'. This event will help the club grow and develop and will
...
more
Upcoming Event:
Club Clean Up days
Wednesday, July 5, 2017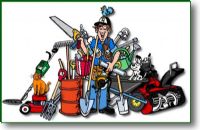 We are having 2 Club Clean Up days to get our premises looking in great condition as we embark on hosting the biggest event in our Clubs History....Pedal the Pond 2017!

Clean Up days
...
more
Event:
2017 Cul Camp Information
Friday, June 30, 2017

This years 2017 Cul Camp will take place on Monday 17th to Friday 21st July.
Registration will take place on Wednesday 5th July 7:30pm to 8:30pm.
PLEASE GET YOUR CHILDR
...
more
IMPORTANT:
Access NI - Cumann Lúthchleas Gael Uladh
Tuesday, June 20, 2017
IMPORTANT!
This needs to be filled out by all Club Team Mentors & Helpers.
"In order to comply with legislation in the 6 Counties and the rules of the Association,
...
more
Heritage:
Féile Naomh Olcán 2017 - Supported by Antrim and Newtownabbey Council
Tuesday, June 6, 2017
Creggan Local Heritage group will organise Féile Naomh Olcán (St Olcan's Festival) on Sunday 25th June at 4:00pm at the Club immediately after Cranfield Sunday Mass.

Come
...
more
Heritage:
Creggan Local Heritage Group - Coffee Morning
Wednesday, May 17, 2017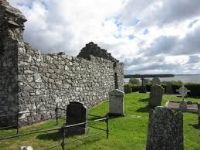 Creggan Local Heritage Group

Coffee Morning and Cake Sale
Saturday 26th May 10:00an - 1:00pm

CLHG is active in the community helping to protect our heritage eg: Cranfield Ch
...
more
News Item:
Donegal Vs Antrim Ulster QF
Thursday, May 11, 2017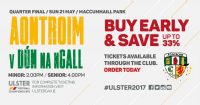 Tickets can be purchased through the Club...

...
more
Match Report:
U10 Football Blitz
Monday, May 8, 2017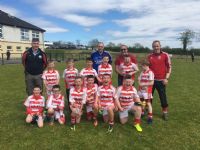 Some photos of the U10 Football Blitz that was hosted on Saturday 6th May.

A big thanks to the teams; St Pauls, Kickhams, Ballerin, Buncrana, St Johns, and the whistlers for a great d
...
more