News
GAA Monthly Newletter
...
more
Ladies Football:
Training Times
Thursday, January 18, 2018
LADIES FOOTBALL NEWS:
Senior ladies training recommences Monday 22nd January at 8:00pm
All new players are encouraged and welcome.
G4MO training also con
...
more
Tuesday, January 16, 2018
We're celebrating all our club achievements and successes throughout last year both on and off the pitch at our Annual Dinner Dance.
Come and join us in the cele
...
more
Friends of Creggan News:
Friends of Creggan Upcoming Event!
Friday, January 12, 2018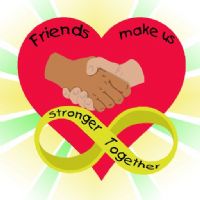 WHAT?
5k run (Timed)
10k run (Timed)
5k walk/fun run

WHERE?
Shane's Castle, Randalstown, Co. Antrim

WHEN?
Saturday 14th April 2018

HOW?
In prepar
...
more
News Item:
Circuits changed from Tuesday night to Thursday night for 4 weeks
Monday, January 8, 2018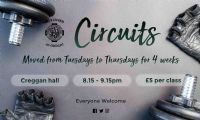 ** NIGHT CHANGE **
Circuits with Michael that usually take place every Tuesday evening are now moved to Thursday nights at the exact same time.
The change will star
...
more
News Item:
Christmas dates for the diary
Sunday, December 24, 2017
Here are a few dates for diaries for all our members and community to take a note of over the festive period.
Tuesday 26th December - St Stephen's Day Run/Walk and Cycle

all
...
more
Upcoming Event:
St. Stephen's Day Cycle/Run/Walk
Friday, December 8, 2017
Shouldn't have had that extra roastie? 3 slices of turkey would have been enough? Did you really need that second desert? All questions we will be
...
more
News Item:
Fintan & Mary give back!
Tuesday, December 5, 2017
Earlier this year the Club and wider community rallied around to help Fintan & Mary and their families after their terrible RTA. A Big Breakfast morning and Auction was organised in whic
...
more
Event:
Christmas Events 2017
Tuesday, November 28, 2017

Friends of Creggan, Kickhams Creggan GAC & Creggan Heritage Group

Cordially invite you to 2 upcoming events:

* Annual Chistmas Get-Together on 17th Decembe
...
more
Friday, November 17, 2017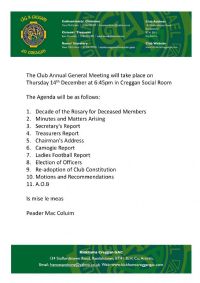 The Club Annual General Meeting will take place on Thursday 14th December at 6:45pm in Creggan Social Room.
Please make a big effort to be there as we close out 2017 and make plans for 20
...
more