News
News Item:
Upcoming Ulster U21 Club Football Championship - Dates & Draw
21 January 2010
Please find the draw, dates & times for the upcoming Elk Sponsored Ulster U21 Club Football Championship.
All matches are scheduled for a throw in time of 2:00pm
...
more
News Item:
Championship Draws 2010
19 January 2010
Click on the attached document to view this year's Championship Draws. We wish all our teams in all codes the very best of luck in their respective Championships.
...
more
News Item:
YOUR CLUB NEEDS YOU!!!
17 January 2010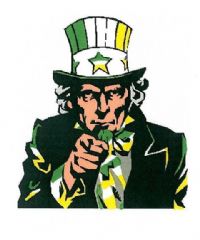 Updated 17-01-10
Cleaning Rota for Ulster U21 Championship

Friday 22nd January 7.15pm
Brian Denvir
Enda Maguire
Terry Maguire
Odhran ...
more
News Item:
Dinner Dance Tickets
14 January 2010
This year's Annual Dinner Dance will be held on the 29th January in The Elk.
Tickets are priced at £20.00 per head and there are only limited numbers available.
The sale and collection of tic ...
more
Event:
Music Classes Resume
08 January 2010
The tin whistle and fiddle classes are set to resume after the Christmas break, on
Sat 23rd January @ 9.45am.
Everyone welcome...young & old...new members & previous m ...
more
News Item:
Cardiac Screening
05 January 2010

A topic that came up at the recent AGM was Cardiac Screening for the kids in our Club. It may be possible to organise a Cardiac Screening night in the near future if the parent interest is the
...
more
Event:
Ulster U21 Football Club Launch & Draw
31 December 2009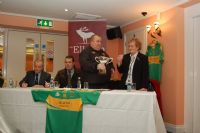 The draw for the Inaugural Ulster U21 Club Football Championship took place in the Elk on Wednesday 30th December. This is a new-born competition and will be hosted by our Club in the months of Ja ...
more
News Item:
New Experimental Rules for National League & McKenna Cup
17 December 2009

Summary of Proposals of Hurling and Football Rules For Experimentation in the 2010 National League & McKenna Cup.

1. Fist Pass:
Eliminate the "op
...
more
News Item:
ATTENTION.....Club Newsletter...SIGN UP NOW!
15 December 2009
There will be a weekly, fortnightly or monthly (depending on demand) newsletter produced starting in the new year. It will contain all information relating to our Club, with both on th ...
more
All the Minor Footballers who ordered hats from Frances McCollum MUST collect them on Wednesday night between 8:30 & 9:30. Bring your fivers too...
If you can't make it, give your name and ...
more