News
Event:
Juvenile Presentation Night
19 December 2014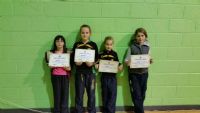 Friday night saw our annual Juvenile Presentation Night held in the hall. This is always a popular event, but also an important event as the Club recognises the efforts of our youth thr
...
more
Upcoming Event:
Senior Citizens Christmas Party
08 December 2014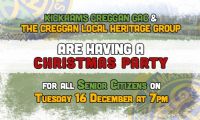 Date: Tuesday 16th December at 7:00pm
Venue: Kickhams Creggan Pavilion
Kickhams Creggan and the Creggan Local Heritage Group have teamed up this yea
...
more
Request:
Manage/Help our teams in 2015
08 December 2014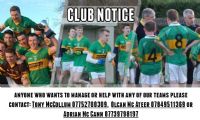 If you, or anyone you know, would like to manage or help out in any capacity with any of our teams for Season 2015, can you contact Tony McCollum 07752700309, Olcan McAteer 07849511369 o
...
more
Upcoming Event:
Dates For Your Diary
04 December 2014
AGM is tonight, Thursday 4th Dec in the Pavilion @ 7.30pm. Please come along and have your say or forever hold your tongue (well for another year anyway).
Traditional song, music and
...
more
Fixtures:
U21 Football B Championship FINAL
28 November 2014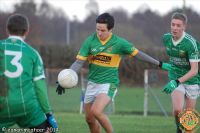 Our U21 Footballers contest the All County B Championship Final against Glenravel this Sunday. Throw-in is @ 2:00pm @ Ahoghill.
Our lads were unlucky in the
...
more
Congratulations:
Senior Hurlers Promoted!!
26 November 2014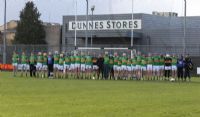 Well done to our Senior Hurlers who are
promoted to the Antrim Division 2 Hurling League
.
After the long Championship run which saw our hurlers not only make it to a All Ireland
...
more
Event:
Kickhams Creggan GAC 2014 AGM
23 November 2014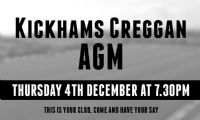 The Kickhams Creggan GAC 2014 AGM
Our 2014 AGM will be taking place on
Thursday 4th December
in the pavilion starting
SHARP at 7.30pm
.
...
more
News Item:
Upcoming Events
21 November 2014
REMINDER:
The Blood Mobile will be at the Clubrooms Friday 21st November for two sessions:
1:30pm-4:00pm & 5:15pm-8:00pm
U21 Football B Championship Semi-Final
...
more
Event:
Creggan Goes red for Shaun
14 November 2014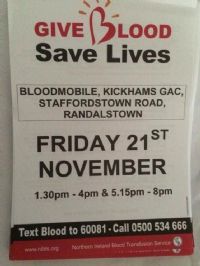 Have a look at the attached image for details of the date and time of the blood donation sessions on
Friday November 21st
at Kickhams Creggan GAC.
Make sure to pass on w
...
more
Congratulations:
Creggan Brothers to Battle it Out in 'CASEMENT CUP FINAL'
07 November 2014
The two Rice brothers will compete on Friday, 07 November 2014 in 'The Casement Cup Schools Final'.
Cormac (right) will be r
...
more