News
News Item:
Eugene McAlynn 5K Memorial Cup
14 April 2009
The inaugural Eugene McAlynn Memorial Cup 5K run/walk took place at Creggan on Easter Monday. There was a great turnout with close to 50 runners/walkers taking part. Oistin McAteer was first past th ...
more
Upcoming Event:
Pitch Upkeep And Maintenance
11 April 2009
Presentation On Pitch Upkeep And Maintenance Wed 15th in All Saints Gac Ballymena. @8pm.
Due to a number of requests from clubs, the North Antrim Board have organized the presentation By Pa ...
more
Match Report:
U16 Ladies Football - Creggan Vs Glenavy
09 April 2009
U16 Ladies League
1 April 2009
Kickhams Creggan 6-07
St. Josephs Glenavy 3-02
Creggan ladies under 16s got their league campaign off to a bright start with a substantial ...
more
Match Report:
ACFL Div. 1 - Cargin Vs Kickhams
07 April 2009
ACFL Div. 1
5 April 2009
Cargin 0-12
Kickhams Creggan 2-05
Well done to the senior footballers who opened up their league campaign with a very ...
more
Match Report:
ACFL Div. 4 - Kickhams Vs St. Pauls
06 April 2009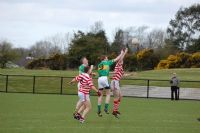 ACFL Div. 4
5 April 2009
Kickhams Creggan 2-07
St. Pauls 0-11
Creggan continued their winning ways in the Division 4 le ...
more
Match Report:
Reserves Round up
06 April 2009
ACFL Div. 4
29 March 2008
Glenavy 1-09
Kickhams Creggan 1-10
Creggan travelled to Glenavy who were promoted along with Creggan last year for the forth match o ...
more
Reminder:
SPECIAL GENERAL MEETING - TONIGHT
06 April 2009
REMINDER: TONIGHT
Special General meeting as detailed below.
Venue: New Clubrooms at Kickhams GAC Creggan
Date: Monda
...
more
News Item:
Generation Game
05 April 2009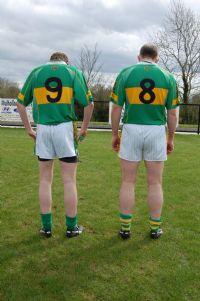 Sunday saw a special day for the McKeown family when father Terence and son Aidan (aka Teddy & Teddy) lined out in midfield together in the ACFL Div 4 match against St. Pauls.
Congratulati ...
more
Upcoming Event:
UMFL Antrim Vs Derry
03 April 2009
The County Minor Footballers will play their second match in the Ulster Minor Football League against Derry on Saturday 4th April in Creggan @ 12.00 o'clock. After last weeks victory over Fermanagh ...
more
Event:
Antrim Minors Vs Fermanagh Minors
31 March 2009
Creggan had a number of representatives on the recent Antrim minor football panel that played Fermanagh at Kickhams on Saturday. Ferghal McGrenaghan, Aidan McKeown, Hugh McNulty, Conor McCann, Mar ...
more