News
Friends of Creggan News:
Friends of Creggan Upcoming Event!
12 January 2018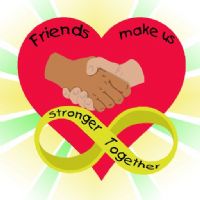 WHAT?
5k run (Timed)
10k run (Timed)
5k walk/fun run

WHERE?
Shane's Castle, Randalstown, Co. Antrim

WHEN?
Saturday 14th April 2018

HOW?
In prepar
...
more
News Item:
Circuits changed from Tuesday night to Thursday night for 4 weeks
08 January 2018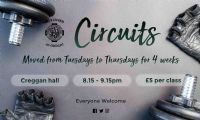 ** NIGHT CHANGE **
Circuits with Michael that usually take place every Tuesday evening are now moved to Thursday nights at the exact same time.
The change will star
...
more
News Item:
Christmas dates for the diary
24 December 2017
Here are a few dates for diaries for all our members and community to take a note of over the festive period.
Tuesday 26th December - St Stephen's Day Run/Walk and Cycle

all
...
more
Upcoming Event:
St. Stephen's Day Cycle/Run/Walk
08 December 2017
Shouldn't have had that extra roastie? 3 slices of turkey would have been enough? Did you really need that second desert? All questions we will be
...
more
News Item:
Fintan & Mary give back!
05 December 2017
Earlier this year the Club and wider community rallied around to help Fintan & Mary and their families after their terrible RTA. A Big Breakfast morning and Auction was organised in whic
...
more
Event:
Christmas Events 2017
28 November 2017

Friends of Creggan, Kickhams Creggan GAC & Creggan Heritage Group

Cordially invite you to 2 upcoming events:

* Annual Chistmas Get-Together on 17th Decembe
...
more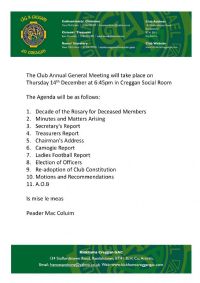 The Club Annual General Meeting will take place on Thursday 14th December at 6:45pm in Creggan Social Room.
Please make a big effort to be there as we close out 2017 and make plans for 20
...
more
Request:
Kickhams Creggan Supporting Saffron Aid Shoebox Appeal
16 November 2017
At this time of year, when we are turning our thoughts to our families and especially our children, we ask that all Antrim Gaels spare a thought for those in our community's who are less for
...
more
Event:
Grow Your Club - Day 2
15 November 2017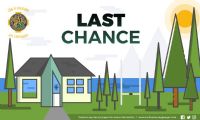 With such an amazing response last weekend.
We are having a second and final day this Saturday 18th November from 10.30am to 12 noon at the club for everyone to come up, purchase and tag the
...
more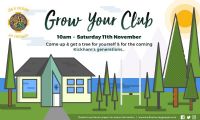 On Saturday 11th November at 10am we will be planting trees around the club grounds. Everyone has an extremely unique opportunity to make their mark and claim a tree for themselves, a fami
...
more