Irish New Rural Club of the Year 2006
Also in this Section:
Hard-working Kickhams proud to secure Rural Club of the Year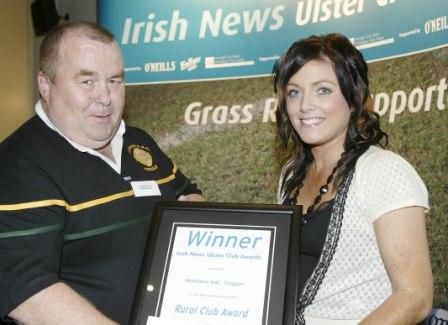 Martin Totten has an unenviable task. The hard-working secretary of Kickhams GAC, Creggan had to schedule 1300 training sessions for the club's 27 different teams last year.
It's a tough ask to keep everybody happy and make sure everybody gets their slot, but it is one of the reasons the Randalstown club has become a vibrant hub of activity and scooped the Irish News Rural Club of the Year award.
Along with the title goes a cheque for £1,500 from the Irish News and a £1,000 voucher from O'Neill's Sportswear along with a bag of goodies from award sponsors Club Energise.
The Antrim club believes the award caps off 10 years of work at all levels of playing, but with particular concentration on the development of their juvenile teams, due in no small part to the work of youth and child protection officer, Colm McLarnon.
"We are an ambitious club and this is the culmination of 10 years work and we have major development planned for the club in the future." said club chairman Tony McCollum.
That "major development" concerns the construction of a new pitch and changing facilities adjacent to their current home.
"We have focused a lot on the playing side of things, in particular the youth, and on what goes on on the pitch. Now we are turning our attentions to developing the club off the pitch" added club committee member Eoin Donnelly.
The club is represented in the Antrim leagues across four codes – football, hurling, ladies football and camogie – and has 600 players across their 27 teams with 76 coaches ensuring every detail is looked after.
Their footballers ladies footballers and camogs compete in Division One of their respective leagues with the hurlers battling it out in Division Three.
They also take part in the Derry U10s two-touch league, a special type of football aimed at building skills and teamwork.
"We have been playing in it for a number of years now" said youth officer, Colm McLarnon.
"Players are only allowed to touch the ball twice before passing it and it's a great way of making sure everybody makes a contribution to the game."